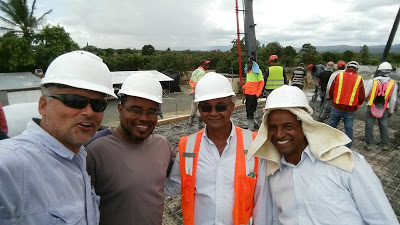 Dear SRI family members,
The construction is moving along and very shortly we will start plastering the "consult" section of the building and will then be needing finish materials for this section. Because of this, we urgently need your help for donations of finish materials.
I write asking if you would consider any church members, business or other contacts you have who might be able to help us with the products they distribute or manufacture as we finish the building. There is a wide variety of products and I can provide specifics if you know of a possible source who would consider helping us. We do not need a donor to supply 100% of any one type of item. For example, if we had someone offering 10 workstations this would be helpful, but if only two or three probably not. A local paint store cannot provide the paint we need, but a connection through that store to a wholesaler or manufacturer might work. For example, I have a supplier who has 275 gallon containers of white paint but a primer is needed.
Depending upon the product, acquiring as a donation is best but "at cost" could mean significant savings for the project as well. Obviously we would prefer getting the entire amount of any product we need as minimal quantities of something will only complicate their use.
Our urgent needs include:
2 generators
Air conditioning equipment (central and split units)
Aluminum framed windows
Interior doors (appropriate for a hospital)
Automatic doors for surgical areas
Door hardware (levers)
5 Pella window units that have blinds between the glass
LED light fixtures (4'x2′ or 2'x2′) drop-in, wall sconces, security type exterior fixtures
Electrical devices (panel boxes, wire, switches, breakers, transfer switches for generators, etc)
Service wire from service to transformer
500kva transformer
Paint (especially primer for masonry)
Epoxy floor coating
Dropped ceilings
Plumbing fixtures
Specialty plumbing fixtures for hospital use (scrub sinks,etc)
Hardware (grab bars, robe hooks, hospital curtains, wall bumpers, corner guards)
Computers and networking components including wire
LED TVs
Telephones (std or VoIP)
Video conferencing equipment
Conference call equipment
Medical gases equipment
Vacuum pump for central system
Loading dock leveler
Hand trucks
Storage shelving
If you think you might have a lead, please let me know by emailing kpotter@solidrockinternational.org. I will follow up and coordinate shipping, etc. Much of this hinges on getting tax exemption and our lawyer told us this is possible by April so I do not want to wait to begin discussions with possible donors. This tax exemption would allow SRI to import goods into the DR and pay no taxes on them.
Finally, If you know of any builders/contractors who use Ferguson Enterprises, I would like to approach this company with a list of many contractors from different areas of the country who are Ferguson customers and all are asking for support of SRI and the project.
Thank you for your help with these urgent needs to help complete the project!
Blessings,
Ken Potter
REVOLUTION Construction Manager
kpotter@solidrockinternational.org
For more information along with recent photo and video updates, visit Ken's personal blog HERE!