Thank you to all who have attended a REVOLUTION Tour presentation so far and to all who plan to attend one of the upcoming locations! For those who are unable to attend, we are happy to provide you with a video recording of the presentation that took place in Wauseon, Ohio earlier this month. We hope you'll enjoy hearing from project Financial Manager, Frank Beltre, Executive Director, Joe Zimmerman, as well as taking a tour of the facility led by Construction Manager, Ken Potter.
The purpose of the Update Tour is to provide current information on the project and campaign as well as answer your questions relating to the project. Past team members of SRI mission trips are highly encouraged to attend as it will also be a great time of reunion for old friends. Please see the tour dates below and feel free to call the office (419-956-4077) for more information. We hope to see you at one of the upcoming stops!

Tour Dates and Information
Wednesday, November 13 – Spartanburg, SC
First Presbyterian Church | 393 E Main St | Spartanburg, SC 29302
Sanctuary
5:00pm dinner / 6:30 presentation
Thursday, November 14 – Concord, NC
Glorieta Baptist Church | 4912 NC 73 East | Concord, NC 28025
Fellowship Hall
6:30pm dinner / 7:00pm presentation
Please RSVP to Nancy Rhodes at 704.436.9866
Saturday, November 16 – Gainesville, GA
Scot & Cathy Stewart home | 3282 Dunlap Drive | Gainesville, GA 30506
4:30pm
Low country boil provided, please bring a dessert to share
Please RSVP to Barbara Griffeth at barbaragriffeth@gmail.com
TBD – Roanoke, VA
TBD
Fundraising Updates
We continue to feel extremely blessed by all who have contributed so far to make this project a reality. Please see the most current numbers below as of 10/31/19: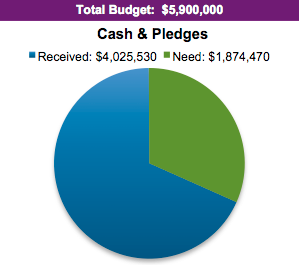 Get Involved!