This month we would like to highlight and thank a local Dominican donor in Santo Domingo. IMCA, a company that represents CATERPILLAR Inc. in the DR, has generously donated the use of several pieces of equipment for the REVOLUTION Project, along with the transportation (a three hour drive from Santo Domingo to San Juan) and fuel for the equipment. Take a look at the short video below to see some of the equipment in action on-site.
The donated equipment includes a skid steer loader, backhoe, vibrating compactor, and a grader. These machines have been used for various forms of site preparation. They have helped dig trenches for the buried main electrical feed wires that run 100 meters from the power poles at the highway to our transformer location. Digging was also done for the buried water and power lines which run from the building to the cistern/pump house 50 meters away. Backfilling, along with more digging, was completed for the septic tank, moving literally tons of material used to finish grade the entire perimeter of the building as we prepare to form and place concrete for sidewalks, driveways, and parking areas.
Thank you again, IMCA, for your generous support of the REVOLUTION Project!
The REVOLUTION Update Tour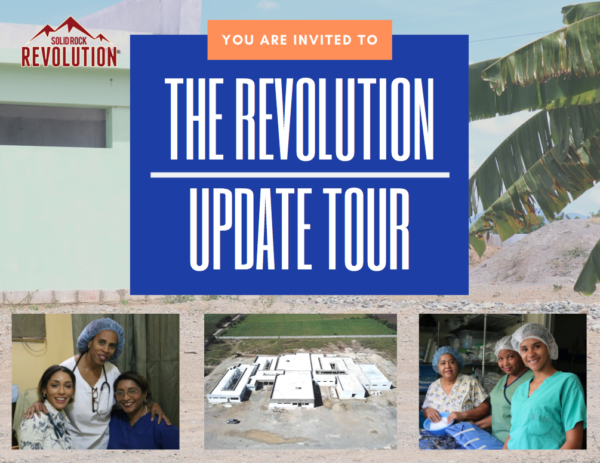 The purpose of the Update Tour is to provide current information on the project and campaign as well as answer your questions relating to the project. Past team members of SRI mission trips are highly encouraged to attend as it will also be a great time of reunion for old friends. Please see the tour dates below and feel free to call the office (419-956-4077) for more information. We hope to see you at one of the upcoming stops!
Tour Dates and Information
Saturday, November 16 – Gainesville, GA
Scot & Cathy Stewart home | 3282 Dunlap Drive | Gainesville, GA 30506
4:30pm
Low country boil provided, please bring a dessert to share
Please RSVP to Barbara Griffeth at barbaragriffeth@gmail.com
TBD – Roanoke, VA
TBD
Get Involved!