Once the REVOLUTION Project is complete, La Clinica Cristiana para la Salud Integral (The Christian Clinic for Integrated Health) will move from its current location next to the guesthouse into the newly constructed facility just several kilometers west down the main road. For those newer to learning about this transition, check out this video that shares details about why the new building is desperately needed for the clinic.
Over the past year, the San Juan region has experienced the effects of COVID-19 as all of us have around the globe. Since the main public hospital regularly treats the highest number of cases of COVID-19 in the area, many have turned to the Christian Clinic for their healthcare needs to avoid the higher traffic at the public hospital. Additionally, other clinics in the area are reported to only offer emergency surgeries, while the Christian Clinic has continued providing routine procedures. As a result, the Christian Clinic has remained very busy throughout the pandemic treating the needs of the community and surrounding areas. The goal has always been to serve the poorest of the poor and be a healthcare option for those who cannot receive care anywhere else. This has continued even now during this time of crisis as the Christian Clinic has been able to provide in ways that other facilities do not.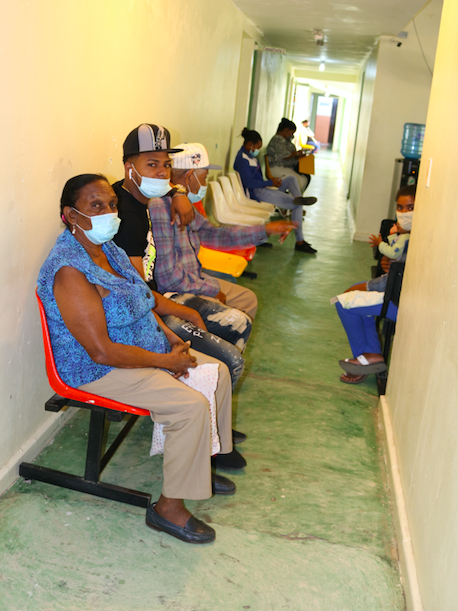 The Christian Clinic is a Dominican-run clinic that SRI supports via partnerships with our short-term medical mission teams that are normally present throughout the year to offer additional services. SRI also gives a small amount of financial support (less than 20%) to cover operational expenses. This support is predicted to no longer be needed in the near future as the new facility and ability to offer additional services to the community will generate extra income, allowing for the Christian Clinic to eventually become 100% self-sustaining. Currently the Dominican medical staff consists of two cardiologists, two pediatricians, three doctors practicing general medicine, one gynecologist, and several other local visiting specialists.
We praise God that the Christian Clinic has continued to be used as a beacon of hope for the San Juan region during this time of unknowns. Within the walls of this deteriorating, humble building, the community is well-aware that they are welcomed and will have an opportunity for the care that they cannot find anywhere else. Thank you for continuing to support the clinic in this journey, allowing for them to offer hope in Jesus' name to more and more people as they eventually expand and transition into the new REVOLUTION Project facility.
Get Involved!