By: Ken Potter, REVOLUTION Construction Manager
Many things are underway that don't have the visual impact that 70,000 block do, but we are working on the details that create a functional building. Here's a quick list of what's been completed most recently:
Plumbing rough-in
Government modifications
Electrical rough-in
Rebar fabrication underway
Door headers underway
Main septic tank almost complete (needs a top and coconut husks- yep)
Take a look at the photos below for some more detailed updates on the construction progress!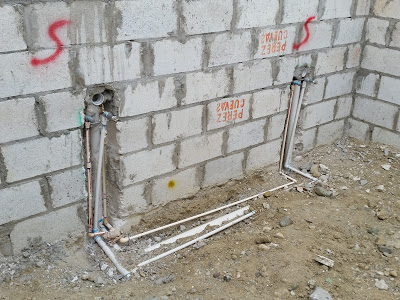 Water pipes are in place and we will clean away any debris from the pipes and surround with sand after all have been pressure tested. This is in one of the lab rooms where HOT WATER will also be available. Most sinks will only have cold water – the norm in the DR.
A small bathroom added to the right of one of the main nursing stations.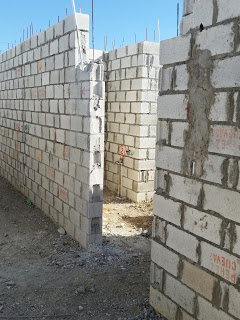 Doorways for patient access have been widened.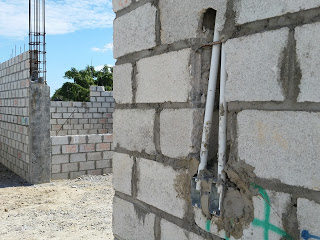 Rough-in boxes for wall switches – these conduits run UP to above the dropped ceilings where we will run the wiring to lighting and panel boxes.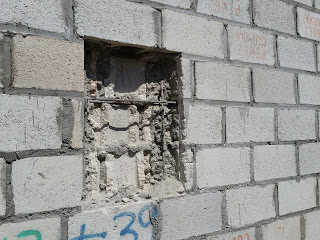 Location for a panel box for the consult section of the building.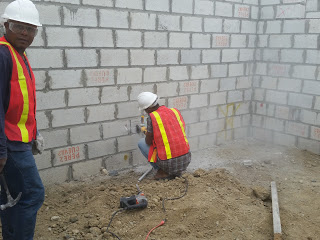 Electrical rough-in work underway. Here they are cutting in a slot for an outlet.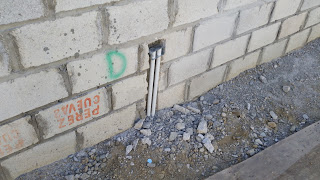 A completed outlet installation. Wiring will be added later and run below the floor slab. Having these in place will allow plasterers to finish the walls. The floors will be done after the wall plaster.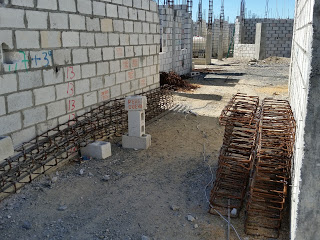 Rebar assemblies ready to go.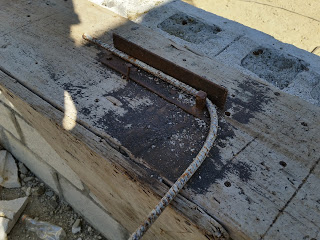 Gadget used to bend the rebar.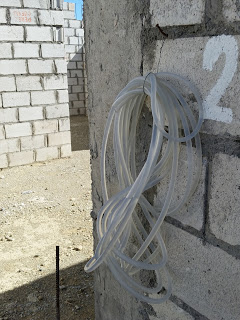 A water level is used to set the bottom heights of the header forms.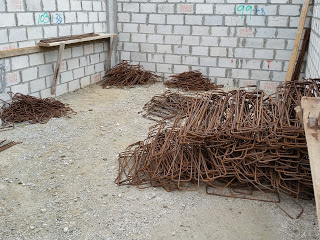 Rebar "cages" are used to assemble long rebar assemblies. These will be used for our "vigas."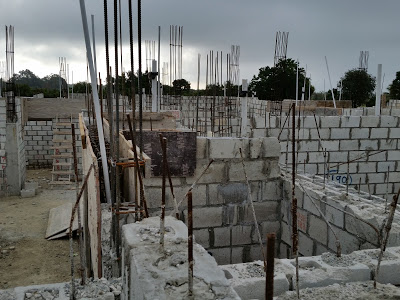 Forms are in place for the many headers that span doorways.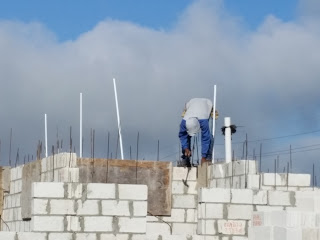 A carpenter hammering a form in place.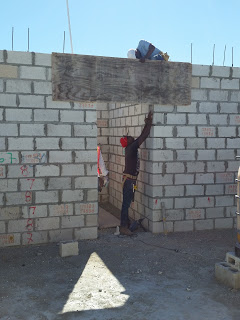 Forming a door header.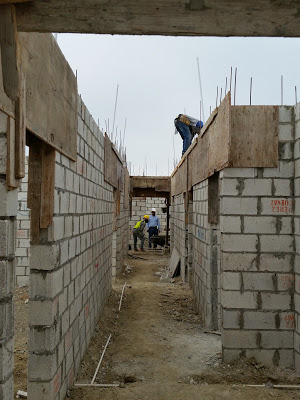 Looking down the laboratory hallway with forms in place for the headers.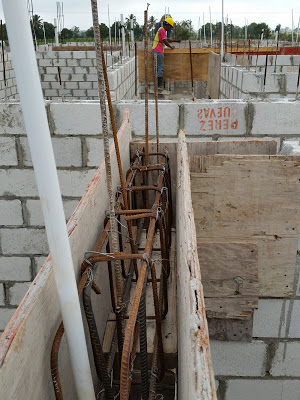 A door header and rebar assembly ready for concrete.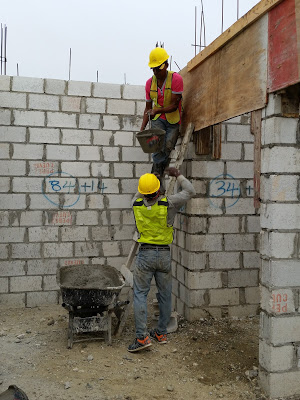 Filling the header one bucket at a time.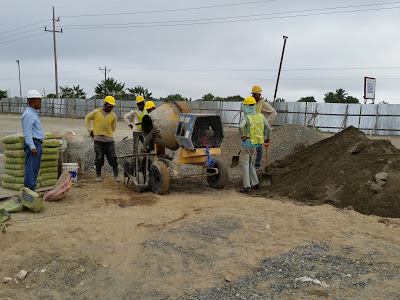 Mixing the concrete for the door headers.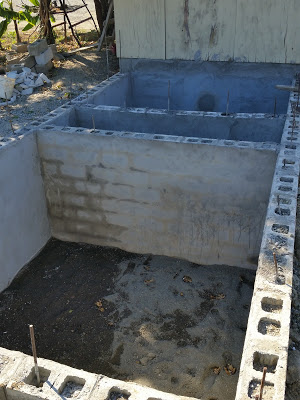 The main septic tank is ready for a top once coconut husks are added (they will filter the water before it leaves the tank).
Fundraising Updates
We continue to feel extremely blessed by all who have contributed so far to make this project a reality. Please see the most current numbers below as of 1/31/17: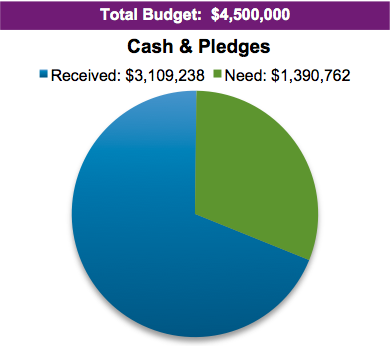 Get Involved!
As always, please keep in mind that there are many ways you can get involved! Please consider the following options for how you can make a difference:
PRAY – We covet your prayers for this project! Pray for the safety of construction teams on the job site and for our ongoing financial needs to complete the budget. Pray for the lives that will be touched for years to come and ask that God will use the clinic as an incredible tool to reach and help the lost in the San Juan region.
SERVE – Join a construction team! Lead a construction team! We have a great need for laborers right now and would love to have you and your friends, family, church, and co-workers get some hands-on involvement!
SHARE – Help spread the word! If you believe in the importance of the REVOLUTION, please share it with your friends and family! Social media is a great way to do this. Please "Like" and share the Solid Rock International Facebook posts and pictures to help spread awareness to as many as possible!
GIVE – Consider how you and your family can sacrificially give financially to the project in the form of a one-time donation or pledge to help us complete the project budget! You can give online, over the phone (419-956-4077), or by sending a check to: SOLID ROCK INTERNATIONAL, PO Box 20867, Indianapolis, IN 46220.
Thanks for your continued support and for following along on this amazing journey to better healthcare in the Dominican Republic!