We praise God for answering the prayer of a mother who was desperate to find care for her young daughter who had a rare tumor on her face. She was admittedly poor, unsure where to turn for help, and running out of options.
For those who have been following along, you probably remember Mariela's story that was posted on the blog back in May. This month, we are excited to share with you a touching interview with Mariela herself, along with her mother, son, and SRI board member, Tammy Leinbach.
This is just one family of thousands touched by the Christian Clinic for Integrated Health in San Juan de la Maguana. We thank God for how He has used the clinic for the past 30 years and wait expectantly for how He will continue to use the clinic staff and SRI volunteers as they serve in the years to come.
The REVOLUTION Tour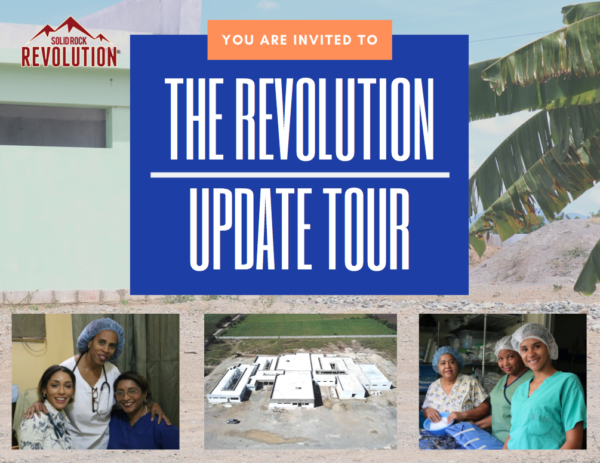 The REVOLUTION Update Tour is coming back to a location near you! REVOLUTION Financial Manager, Frank Beltre, and SRI Executive Director, Joseph Zimmerman, will be traveling to provide updates on the campaign as well as answer your questions relating to the project. Past team members of SRI mission trips are highly encouraged to attend as it will also be a great time of reunion for old friends. Please see the upcoming tour dates for the month of September below and feel free to call the office (419-956-4077) for more information. To view the full tour calendar, visit the REVOLUTION Tour page.
Tour Dates and Information
Tuesday, September 24 – Peoria, IL
Northwoods Church | 10700 North Allen Road | Peoria, IL 61615
Room G
6:00pm
Wednesday, September 25 – Nashville, TN
First Presbyterian Church | 4815 Franklin Park | Nashville, TN 37220
Jones Session Room in administrative building lobby
5:30pm
Thursday, September 26 – Louisville, KY
Southeast Christian Church – Crestwood Campus | 6201 Crestwood Station | Crestwood, KY 40014
Room 190C
7:00pm
Please RSVP to Nancy Gray at 502.836.7152 or nicunancy1952@gmail.com
Get Involved!